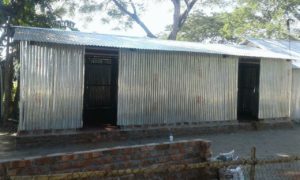 Update from Previous Funding
Alhamdulillah through Qafila, we raised $1000 in July to help do some renovations and expansion of the Madrasah. As the renovations started, and possibility of expansion came to horizon, Allah Ta'ala opened the doors for a lot of deeni work.
The Madrasah has been flooded with enrollments from the nearby vicinity for Hifz and Qur'an studies. Currently at an enrollment of 70 students, new year will see even more students. The hard choice in a rural are to turn away potential students can be devastating, so the Madrasah opted to accommodate new enrollments.
During the last upgrade, Madrasah faced a hurdle. The land where the extension was scheduled required extra soil to be filled in for leveling. Foundations have been laid and fortified with cement.
QAFILA Crowdfunding request a second push towards completion of this milestone in the expansion and upgrade of the Madrasah. Further details : http://www.qafila.org/donations/darul-quran-muslim-academy-aid-update-more/